PRODUCT FEATURES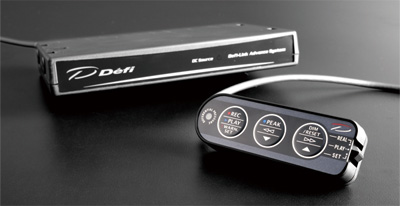 Feature
Note

Interactive communication advanced system is implemented.
ADVANCE Control Unit can control up to 7 Defi-Link Meter ADVANCE CRs at a time.
Gauges can be controlled from distance with the included switch unit.

Opening and closing modes can be selected from 2 variations.
The installation of additional gauges is easy.
Just connect the new gauge to existing gauges and attach the wire to the Advanced Control Unit.
(installation of sensors are required)
Power Indicator of ADVANCE Control Unit assures correct wiring.
Peak value and warning value during driving are stored. Driving data can be stored and replayed up to 3 minutes.
A mounting bracket, meter cup, regular position bezel, cables and sensors are provided with this product.
With both fuel pressure gauge and turbo installed, differential pressure can be monitored on the fuel pressure gauge screen.
Defi-Link ADVANCE SYSTEM is the next generation system that adopted the interactive communication.
Defi-Link ADVANCE SYSTEM products are not compatible with Defi-Link SYSTEM products.

Official Distributor for Defi Products in Europe. Defi graphics & text use by kind permission of NIPPON SEIKI CO.LTD