EDFC
Products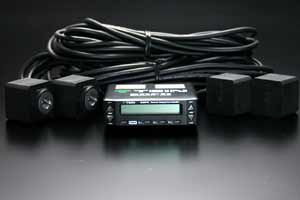 Description:

Highly accurate stepping motor is downsized and fully shielded with rubber cover, to accommodate wider range of products / vehicles. Waterproofed compact connector for easy installation. New form of sales/packaging for better inventory management.
Changes in Spec
1) Controller

• Re-configured control program to suit newly designed motor. (No change in operation)
• Changed outer case color from silver to black (black resin w/o paint).

2) Highly Accurate Compact Stepping Motor

• Changed motor size from 45 to 35
• New rubber cover for full enclosure
• Downsized watertight connector from 45.3x22.7mm to 30.5x11.6mm

3) Harness

• New connector (see above)
• Longer cable (Rr) for easier and better wiring capability
3800mm ⇒ 4600mm
* Extension cable kit is discontinued.