Products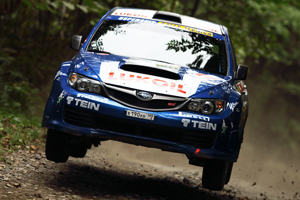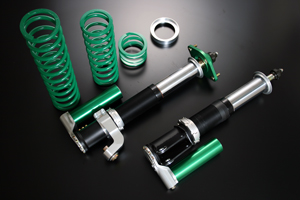 Ready-to-race, competition spec rally damper, race-bred in rally championships worldwide, including P-WRC & APRC
32-level damping force adjustment in high-speed compression side, 16-level in low-speed compression side and 16-level in rebound side
Leading-edge functions, tested and proven in real races, such as 'F.R.S.', 'T.C.V.', 'P.D.S.'
Available for overhaul and revalving
What is F.R.S. (Fast Rebound System) ?
F.R.S. operates when the mechanical sensor detects the change in load on tires, in situations such as when going through gaps and/or making jumps.
When the ground contact load on tires decreases, F.R.S. is activated to open the by-pass valve, to instantly decrease the rebound damping force, making rebound stroke faster. This makes it possible for tires to return to the ground faster, after going over gaps, and provides superior stability at high speed with a maximum of 20Hz response speed.
Also, the faster rebound stroke means securing longer compression stroke. This allows the use of softer springs and hence the settings can be focused more on traction performance.
While running, the vehicle's dynamic ride height would be slightly higher than the static ride height, due to the jack-up effect of F.R.S. This reduces the possibility of the under guard hitting the road surface and also the reduction of travel resistance can be expected. F.R.S., which works the best on rough surfaces, helps to keep the time loss to the minimum when running on ragged SS after repeated use and/or on broken surface on inside of corners.
F.R.S.: Patented. PCT (International Application) WO2005111459 / WO2004040164
Two adjustable points of F.R.S.
(1)F.R.S. Start Point

The switching mechanism for the F.R.S. is the Belleville washer (disc spring). As the load on tire reaches closer to zero, the F.R.S. operates more actively to give you more traction. Different combination of the Belleville washers allows you to control the amount of load transferred, giving you more possibilities in settings.

(2)Opening F.R.S.

When the F.R.S. operates, the by-pass valve is opened to allow rebound damping force to instantly decrease. By altering the amount F.R.S. opens the valve, excess rebound movement of the vehicle or downward load can be adjusted accordingly.
How tires move when driving through gaps at high speed.
Specification
A) F.R.S. Unit

Belleville washers (disc springs) set inside F.R.S. unit adjusts the start point of F.R.S. Also, the amount that F.R.S. opens the valve is adjusted by shims.

H.B.S.(Hydraulic Bump Stopper)

While existing shock absorbers use bump rubber made of rubber/urethane to respond to input at full-bump, TYPE Gr.N Damper uses "H.B.S." which is controlled by a hydraulic system. "H.B.S." is controlled separately from damping force adjustment, thus it won't have a negative affect on traction performance and capability on flat surfaces. Unlike existing dampers, you don't need to unnecessarily set spring rates high and/or damping force stiff to accommodate big jumps, risking traction performance and control on flat surfaces. Likewise, you can avoid settings just for flat surfaces, which might cause unwanted movement during big jumps. 16-level damping force adjustment is also available with "H.B.S.", to meet various rough and poor road conditions.
B) 3WAY Adjustment Feature

32-level damping force adjustment in high-speed bound side, 16-level in low-speed bound side and 16-level in rebound side make 3 WAY adjustment, to correspond immediately to ever-changing road conditions.
C) Reservoir Tank

F.R.S. spec has separate reservoir tank for increased oil capacity, in order to generate stable damping force even at long distance SS.
D) Camber Adjustment Mechanism (strut)

F.R.S. spec is equipped with replaceable plates at the knuckle part to provide camber angle adjustment. Camber angle can be adjusted by changing camber washer with another set with different offsets.
E) Exclusive Spring

Exclusive spring is developed concurrently to optimize performance and setting of TYPE Gr.N damper. It is made of high tensile steel with tensile strength of over 200kgf/mm2 (1960N/mm2), is designed in 'hard-to-sag' shape, is lightweight yet has sufficient stroke to compete in international class rally races.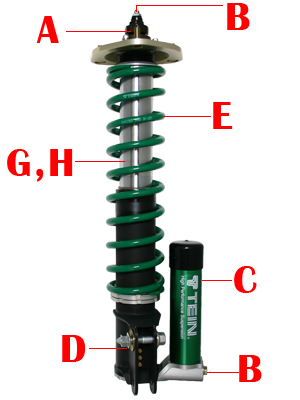 CT9A Front

F) Pillow Ball

A Pillow Ball Top Mount (spherical bearing) is now used for the rear shock absorber. A pillow ball is also used at the lower installation point. By replacing the rubber bush with a pillow ball, load input compliance can be eliminated and direct suspension stroke can be achieved, resulting in better road-hugging performance and superior traction. (GRB & CZ4A only)
G) T.C.V. (Temperature Compensating Valve)

At long distance SS, such as in WRC, workload of shock absorber oil would be tremendous, causing the temperature to rise close to 150°C. In such cases, viscosity of oil declines and thus damping for cogeneration drops. T.C.V. compensates for decline in damping force due to oil temperature rise to provide continuous, linear damping force.
H) Mono-Tube Structure

Mono-tube shell case is used to achieve and maintain fine control and close communication with road surfaces. It also is superior in durability, withstanding even the hardest runs.
I) P.D.S. (Pressure-Dependent System)

Use of the valve, which operates corresponding to the change in pressure inside the damper, makes the initial movement smoother and enables better absorption of inputs as well.(GRB R4 & CZ4A R4 only)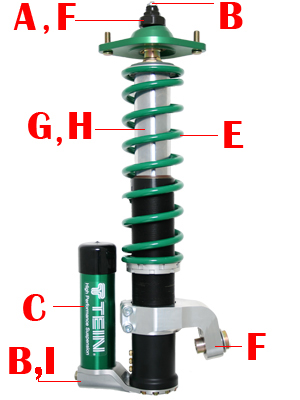 GRB Rear